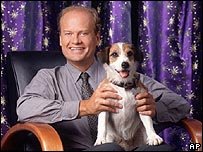 Eddie, aka Frasier's dog, aka Moose, died peacefully on June 22nd. He was almost 16 years old when he passed away.
Eddie appeared in
Frasier
and
My Dog Skip
. He leaves behind a son, Enzo, who actually shared both roles with his dad.
Eddie will be missed by far more people than
Kenneth Lay
.